Take your entire collection with you!
MySongbook is available as a Universal (iPad, iPhone, and iPod) iOS App as well as a Mac App. Get your copy today!
iOS Features/Description:
No more carrying around your heavy folders and music books, your iOS device is now all you need for your chord charts and guitar tabs. Take your entire songbook of chord charts wherever you're going to be performing or practicing.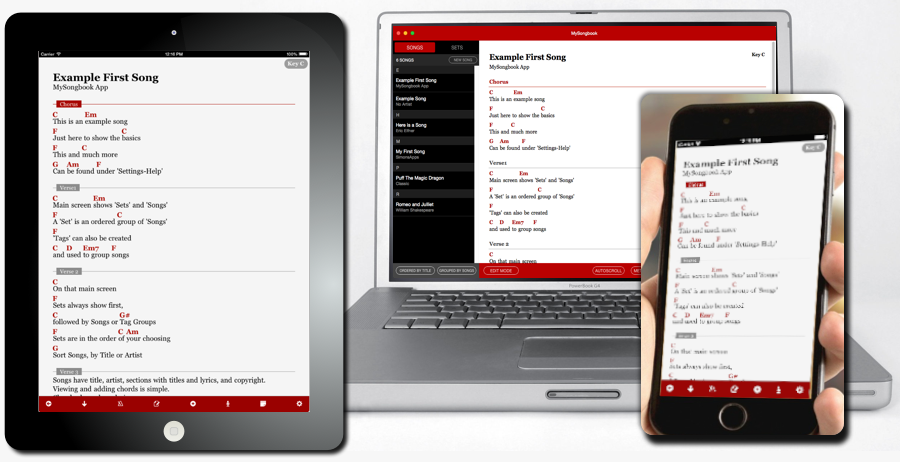 Supports iPad, iPhone and iPod Touch. (Also available on the Mac App Store)
Create Set Lists and switch between your songs with a quick swipe. You can also transpose your songs to the key you will be performing them in, as well as setting a capo position which will automatically transpose the chords for you.
MySongbook supports AirTurn and PageFlip 'hands-free' page turners. You can now switch between your songs without having to touch your iOS device.
Some Features:
● Add unlimited songs
● Add guitar tablature
● View Chord Diagrams – over 1000 chords included for guitar, bass, ukulele, banjo and mandolin, plus you can add your own chords
● Nashville Numbering System support
● Create setlists with unlimited songs
● Transpose your songs and set a capo position
● Easy song creation with 'Chord Picker'
● Auto-scroll
● Tag songs for easily finding songs by style and topic
● Email PDF's for printing and sharing
● Email MySongbook files, so other users can import directly to their app
● Optional Passcode Lock
● Night Mode Option
● Adjust the font to fit your needs